There have been many athletes who have truly displayed inspiring moments of human grace at these Olympic games. Nikki Hamblin of New Zealand and Abbey D'Agostino of the United States for example, displayed perhaps the most prolific tale, melting the interwebs after the two collided on the track during the 5,000-meter race, with D'Agostino pulling Hamblin off the ground to continue the race while helping each other cross the finish line. Yet no athlete displayed the raw, uncensored, authentic virtue of the Olympic spirit more so than Chinese bronze medalist swimmer Fu Yuanhui.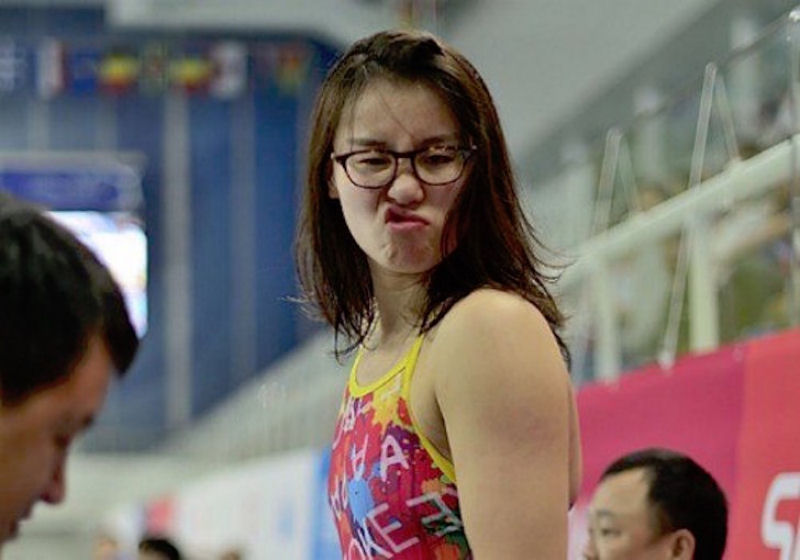 What makes Fu Yuanhui rise above the other talented, competitive athletes? She embodies the true spirit of the Olympic games in her attitude. Unlike the carefully crafted versions of Olympians we expect to see – the bubbly personalities of our gymnastic's sweethearts, the deadlock determination of Katie Ledecky, the steadfast focus of our sprinters, the bro culture that drips off the men's swim team, Fu Yuanhui has shattered every stereotype of the archetypical athlete we know, by simply not being afraid to be her unabashed, uncensored, adorkable self, and to show her true love and passion for her sport.
As fellow UNDO-Ordinary writer Ashley Bone pointed out in an op-ed on "athleisure," the look of a champion can be bought (or fronted) but that doesn't make it real. Somewhere between the 5am practice start times, the grueling pressure, and the sacrifices made over decades of laser focused work, it's easy for an athlete's passion for the sport to fade…to become a job to perform and the concurring picture to pose for rather than a dream to drive towards. Yet when the world watched 20-year-old Fu Yuanhui these Olympic games, they saw the raw, real, somewhat hysterical, unpolished emotions of an athlete in love with her sport. She won our hearts…and our airtime.
Yuanhui  has been a promising talent to the Chinese elite swim team since the London Games in 2012, where she finished 8th as a 16-year-old in the 100m backstroke. During the past four years, she quickly moved up the global ranks but struggled with injuries and training to remain consistently at the top. Going into the qualification rounds of the Olympics, Yuanhui was just as unnerved getting out of the pool post race, as she was going into it, believing her performance to be shaky and not up to par due to the months of setbacks.  However, after a Chinese journalist informed her of her time and qualification, Yuanhui's facial expressions grew in delight:
"Whoooaah! I was so fast! I didn't hold back…I used all of my mystic energy!" she enthusiastically exclaimed. An onslaught of memes were produced thereafter on both China's social media platform of choice, Weebo, as well as the rest of the waking world, to capture the unadulterated delight.
The 100m backstroke final started in a similar fashion, with Yuanhui similarly exiting the pool without realizing she had tied for the bronze. Jubilated when she found out her placement, the journalist asked Yuanhui why she didn't place higher. Yuanhui – the clairvoyant, unpretentious, badass that she is, pragmatically stated that her arms "were too short."
She hopped her way off the medal stand and into the locker rooms concurrently, celebrating every step of the way…
Yuanhui's personality has surely brought about the highest sense of global goodwill towards China through the form of sports since the days of ping-pong diplomacy. The world sees her candid remarks as a breath of fresh air to China's historically stiff athletes, who are known for profusely thanking their country and promising to perform better at the next race. Yuanhui herself has single handily reversed this rigid attitude amongst Chinese competitors and has played an influential role in changing China's own relationship with their athletes, in which gold medal winners are immortalized forever and everyone else is forgotten in shame. In otherwords, she's made bronze medals a thing.
Yuanhui's time in the spotlight grew over the course of the games with each race, pushing the boundaries of domestic and international ideas on humanity – specifically in relation to women's rights. In fact, each time Fu Yuanhui opened her mouth (or didn't), she said or did something new and magical to break down gender norms in sports, and she did it through highly relatable moments of feminist clarity. Take, for example Fu Yuanhui's epic swimsuit snap moment:
This GIF is all of us.
Her concurring rant about how uncomfortable and tight performance swimsuits actually are was a breath of fresh air in a sport that makes a mastery of perfection:
"To be frank, they completely flatten your boobs. Even big boobs get completely flattened." she said in a later interview with the Chinese press.
But Fu Yuanhui best sports/gender-defying moment came  after the 20-year-old  didn't place during the women's 4×100-meter medley relay in Rio on Sunday.
"I feel I didn't swim well today. I let my teammates down. Because my period came yesterday, I'm feeling a bit weak, but this is not an excuse," said Fu in response to a journalist asking her about her performance.
Women talking about their period's in sports is a global taboo – even here in the United States. Interestingly, because the majority of sports funding is geared towards male-dominated sports, there has historically has been little funding in the areas of sports medicine to understand how the menstrual cycle affects female's performances.
Fu Yuanhui's remark caused an instant internet celebration the globe over.  China especially celebrated though,  a country where tampons are considered unwomanly due to historic connotations with the breaking of the hymen and consequential loss of virginity. Yuanhui's frank body talk has become an even more important game changer here, as it effects over () billion women in China.
In an athletic realm of high-profile endorsement deals, 24/7 media coverage, and intense performance pressures, Fu Yuanhui keeps it real and in perspective. She's the accidental athlete. The inadvertent sports star. The highly anxious, super awkward, single, young 20-something who just wants a boyfriend and wishes she didn't have her friggin period on the day of the finals. Her awkwardness makes her brilliant. Real. Human. A True Olympian who embraces the real purpose behind sports: to have fun and to do your best, on any given day, no matter what the circumstances.
Mostly, Fu Yuanhui is an icon for every little nerd out there who just happened to kick ass at sports, who never fit the athlete's stereotype but just happened to be pretty friggin awesome at doing the thing she loves. No front. No pretense. Just soul.
That's a story everyone relates to and can aspire to. Cheers to our new Olympic role model.